Become a paragliding pilot
Master piloting and experience the incredible sensations felt in flight.
Dimension-3 offers you training packages adapted to your level, beginner or experienced.
Choose the course that suits you best!
Initiation course
■ Objectives You combined theory and practice, in order to acquire a good knowledge of the equipment, aerology and basic gestures of piloting.
■ First solo flight Over the course, you will progress at your own pace by making small flights on a gentle slope, educational two-seater flights with dual controls, to finally achieve your first solo flight.
■ Supervision Each student is supervised by two qualified instructors with radio assistance, and uses the school's equipment.
■ Equipment on loan (available).
■ Recommended Duration 3 to 4 days.
Full training / Solo license
■ Objectives Following the introductory course, this complete theoretical and practical training will prepare you for the Swiss Federal Certificate as a paragliding pilot.
Taking big steps towards autonomy, it is the work of take-off techniques, approach and landing control. You will discover the exploitation of different air masses, fly in thermals, discover new sites, reinforce your skills and learn how to observe the signs of the air.
■ Federal Licence This training is in accordance with the programme of the Swiss Federation of Free Flight (FSVL) and recognised by the Federal Office of Civil Aviation (FOCA). The licence is recognized worldwide. The minimum number of flights required to take the practical exam is 50 flights. (In order to be able to take the practical test, a number of 50 flights is required).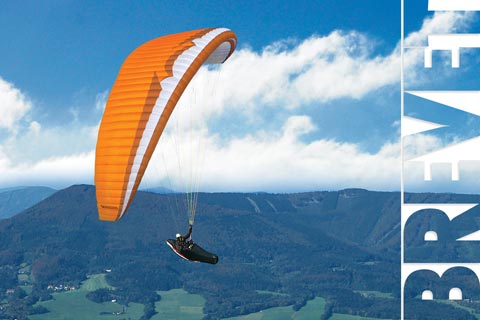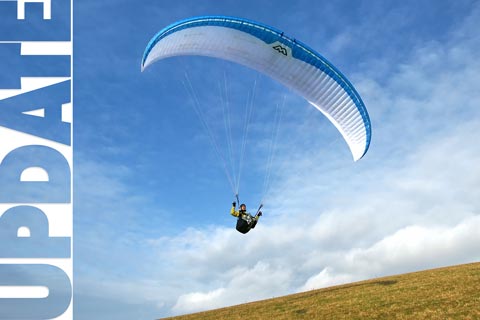 Refresher course
Like many pilots, you have flown less and less for a thousand reasons, but without ever making the decision to stop paragliding. Your volatile soul wakes up again, but you are hesitating? The simple sight of the other paragliders in flight makes you sigh with nostalgia?
Take the step! We will take care of you peacefully.
We will assist you according to your specific needs: glide inflation, take-offs, thermal, landings, equipment verification, advice and upgrades.
It's like riding a bike, you can't forget it!
Discovery day
The discovery day is individualized (max. 2 participants). This personalized training allows you to perform your first manoeuvres under the supervision of an instructor.
You will discover the equipment, its implementation and the first exercises on a gentle slope.
The highlight of the day: a tandem paragliding flight, with pedagogical exercises and dual controls.
Training at your own pace
Choose one of our formulas
or contact us to evaluate your needs together.
Paragliding Training Center – Price List
Customised formulas?
You have particular constraints. Our formulas are modular and can be adapted to your needs. Progress at your own pace.

Practical informations

for internships
Loan equipment
It is made up of:
A recent paraglider adapted to your needs,
A harness with back protection,
A rescue parachute,
A helmet,
From a radio.
Insurances
Students are covered in civil liability by our insurance during the training sessions. Insurance in case of accident is not covered by the school. Students insure themselves against the consequences of an accident.
FOCA and FSVL approvals
Dimension-3 is a free flight school approved by the FOCA and the FSVL (Federal Office of Civil Aviation and Swiss Free Flight Federation).
Sites / Take-offs
Our privileged sites are located at Villars-sur-Ollon. But other take-off options are available to you, such as Leysin, La Gruyère, and Sonchaux for a flight on Lake Geneva. The sites are defined according to the training curriculum, on a school slope, beginner take-offs or large flights.
The weather forecast
Weather forecasts of the winds and breezes strength and their orientation as well as potential thunderstorm development are essential parameters for paragliding. Every day, we determine the most suitable site for the training course to ensure optimal safety conditions.

It is possible to buy your own equipment, new or used, on the first flight or during training.
Our courses to learn paragliding and become a certified pilot
14/11/2016