Tandem flight with DIMENSION 3
Make Icarus' dream come true. We fly you away!
Do you dream of being on familiar terms with the mountains and their peaks?
Let yourself glide and walk with the winds and ascents, admire the unique spectacle of the earth seen from the sky by the magic of paragliding!
Our qualified two-seater pilots will make you experience the pleasure of a great flight in complete tranquility.
Are you taking off for the first time? This flight allows you to discover the sensations of takeoff and flight in the high-deep blue. The flight over Villars or the vineyards of Ollon. Will you be addicted to it?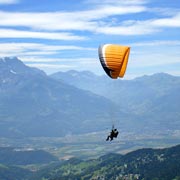 A great flight over Villars, in the thermal ascents on the Grand Chamossaire, on the relief of the massifs of the canton of Vaud until landing in the valley. The wide open spaces are yours!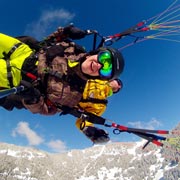 Take the controls and become a pilot for the duration of a flight. During the flight, the instructor will make you take the double orders. Don't pull too hard, the steering is all subtle.
GROUPS, SEMINARS…
Come in large numbers!
We have the means to welcome you: pilots, flight equipment and shuttles. Dimension-3 has experience in group management. We organize for you tandem paragliding discovery days for up to 20 people per day.
Consider planning your excursion. We are at your disposal to advise you.
Information request
Don't go home without the pictures of your flight
Photos, videos, keep the most beautiful memories of your tandem flight.
Video editing of your flight on demand: supplement of 50.- CHF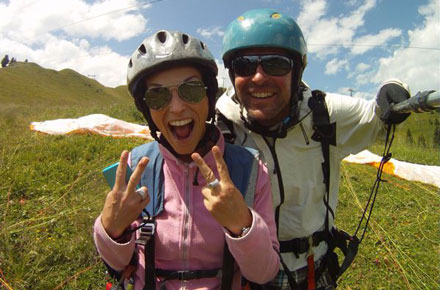 Emotions at takeoff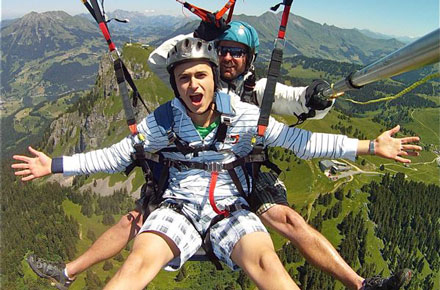 In-flight ecstasy
Extraordinary panoramas
We also organize tandem days with Handisport supervision
Tandem paragliding flight in Villars-sur-Ollon (Switzerland)
15/11/2016